Once upon a time, there was a girl called Louise who always dreamt of one day running her own café. Her older sister Clare was excited that she might want to share her culinary talents with the world and whilst she was on holiday with Louise, their cousin Lynda and step-monster Lesley, they hatched a plan for Louise to realise her dreams.
Louise and Clare hunted high and low for the perfect spot to set up their café and after many false starts, came across a little gem tucked away in Cirencester's Swan Yard.
With premises lined up, they tasked Lynda, who was a graphic designer by trade, to come up with a logo for the shop front. After much scribbling and consultation with the sisters and an ever expanding team of family and friends now known as Looby's Bunch, the tree logo was born. They all love trees and the LBs logo is symbolic of a family tree, with its many roots gaining nourishment from the earth. The leaves also look a lot like spoons!
In the meantime, Louise had begun in earnest to create the dishes for the LBs menu and Clare had amassed an army of willing workers (family, friends and employees) to get the café ship shape and Bristol fashion.
The doors of LBs finally opened on 2nd May 2015 and the rest, as they say, is history!
---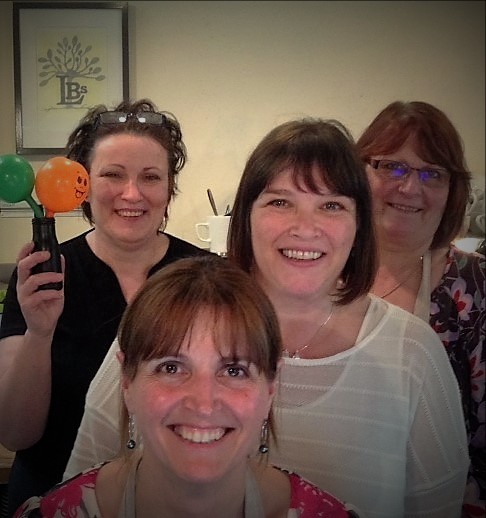 L-R Looby, Clare, Lynda & Lesley